Opinion: After reading the following survey report from the Pew Research Center and looking at their graphs, it didn't take long to see the overall trend of it. As with any Poll or Survey, It is hard to author a purely neutral question(s) or context of a question to allow the person answering to not be lead one way or another. I did find it interesting that they did try to expand it out over several years but I would have liked to see a one hundred year trend to see if it was a constant cycle or a one event now type of survey. Even after reading the whole article the title I chose jumped into mind.
British, French and Germans Give Biden High Marks After U.S. Election | Pew Research Center
Throughout his presidency, Donald Trump was broadly unpopular internationally, and his poor ratings have had a negative impact on America's overall image, especially among key allies and partners of the United States. By contrast, early reviews for his successor, President-elect Joe Biden, are much more positive, according to a new Pew Research Center survey in France, Germany and the United Kingdom. People in all three countries express confidence in Biden and optimism that relations with the U.S. will improve now that he is moving into the White House.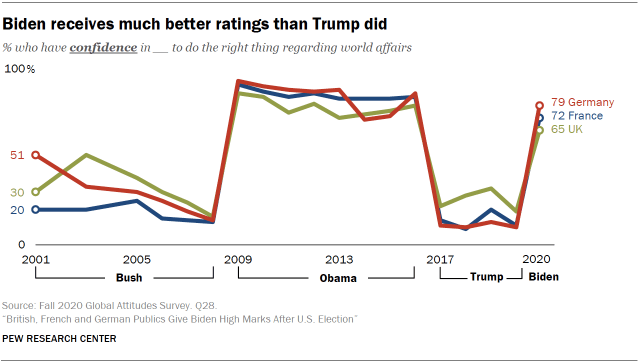 Why was President Trump not liked by our allies and enemies abroad? The business sense that Trump used to bring them to the table and made them understand that they needed to step up and pay their fair share for their own defense and really look at they could contribute their own needs rather than get it handed to them with no strings attached.
Reflecting widespread trust in Biden, majorities in France, Germany and the UK are hopeful that America's handling of various international issues will improve once he takes office.
This shows me that they are ready to get back to one world government mentality of we will tell you what we will do and you will pay for it. They really want to see the US fall back into line. With Biden in charge, it will probably happen. I really suggest you click on the link at the top and read the entire article and then make up your own mind.
Till the Truth comes out.
JH